Spring in Korea: The Magical Season of Cherry Blossoms
Apr 13, 2023
- Author: Good Job Korean team
- Editor: Good Job Korean team
---
"봄이 왔네요." "Spring has come."
It is finally spring in Korea!
Spring is a beautiful and magical season in Korea. It is a time of new beginnings where the long and cold winter gives way to warm sunshine, fresh greenery, and explosions of colorful flowers and trees. Spring in Korea generally falls in the months of March, April, and May, with the peak season in April.
Before we move on, let's take a look at some words related to spring in Korean that you may often hear during the season:
봄 (bom) - spring
꽃 (kkot) - flower
벚꽃 (beot-kkot) - cherry blossom
나무 (na-mu) - tree
봄비 (bom-bi) - spring rain
새싹 (sae-ssak) - sprout, bud
싱그러움 (sing-geureoum) - freshness, liveliness
삼월 (sam-wol) - March
사월 (sa-wol) - April
오월 (o-wol) - May
Weather in Korea During Spring
Even though the cold winter weather in Korea begins to gradually warm up from March onwards, it may be wise to still dress in layers as it is still relatively cold at the beginning of spring, especially in the evenings. When the season comes to an end in May, rainfall decreases significantly as the month becomes relatively dryer compared to March and April, and the temperature is expected to reach as high as mid-20°C.
Here are some terms you may use to talk about the weather during spring:
햇볕 (haet-byeot) - sunlight
따뜻한 (tta-tteut-han) - warm
화창한 (hwa-chang-han) - sunny and bright
따스하다 (ttaseu-hada) - to be warm, mild
따뜻하다 (ttatteut-hada) - to be warm, cozy
While Korea gets comfortably warmer and sunnier with pops of beautiful flowers, the fine dust pollution, unfortunately, is the worst in Korea during spring. This phenomenon is known as 황사 or hwangsa which literally means yellow dust. Visitors are advised to bring along pollution masks to avoid any discomfort due to dust pollution.
*Cherry Blossoms by Hannah, @han.in.hanguk
"벚꽃 보러 가요."
"Let's go see the cherry blossoms."
One of the most iconic features of spring in Korea is the blooming of the cherry blossoms. The cherry blossom season usually begins in late March or early April and it lasts for about two weeks. During this time, visitors flock to popular spots in Korea to admire the delicate pink flowers in full bloom. However, do note that the cherry blossom season can be unpredictable and may vary from year to year depending on weather conditions. Thus, you might want to check the bloom forecasts before jumping into planning your visit.
Places to Visit During Cherry Blossom Season (여의도, 석촌 호수 공원, 진해)
*Cherry Blossoms in Seoul by Good Job Korean
During this season, there are many cherry blossom festivals held in various parts of the country. The most famous festival is the Yeouido Cherry Blossom Festival (여의도 봄꽃축제), located at Yeouido, a small island in the Han River in the heart of Seoul. This season is the time when the island transforms into a sea of pink as thousands of cherry blossom trees bloom aesthetically. The festival usually takes place in early April and many tourists would come from different parts of the world to see the breathtaking scenery.
*Cherry Blossoms Festival at Yeouido by Hannah, @han.in.hanguk
There is also a cherry blossom festival at Seokchon Lake Park (석촌 호수 공원) where over 1000 cherry blossom trees lined the scenic lake with the Lotte World Magic Island as the background. The park comes with a variety of attractions, including a theme park, an artificial island, and a shopping mall. Hence, the park is often crowded with people having picnics, taking photos, and enjoying the festive atmosphere during this season.
*석촌 호수 공원 (Seokchon Lake Park) by Good Job Korean
*Lotte Tower and Lotte World Theme Park Sunset by Hannah, @han.in.hanguk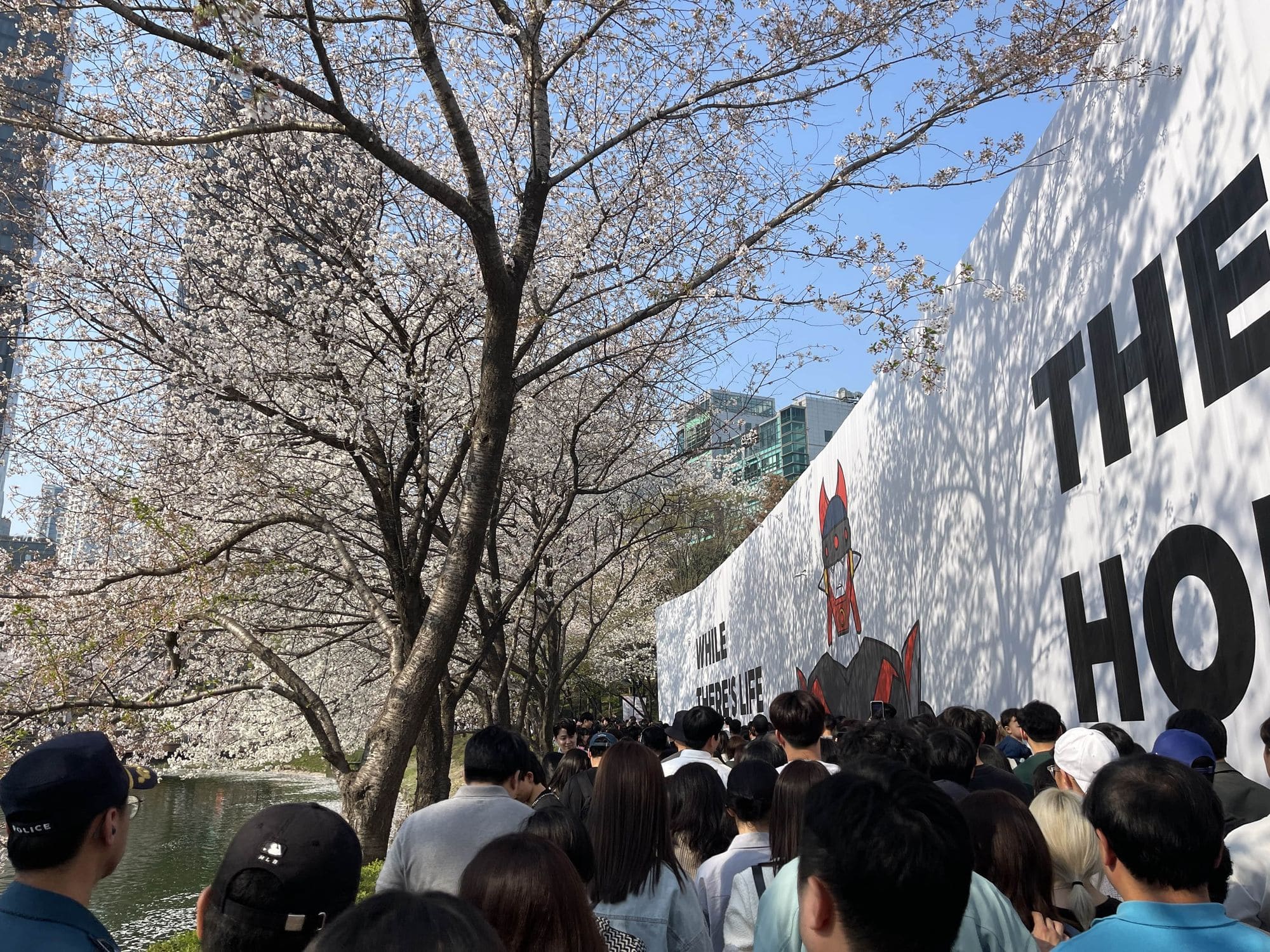 *The crowd of visitors at Seokchon Lake Park by Good Job Korean
Another popular go-to place for the cherry blossom festival is Jinhae (진해), a small town in the south of Korea (approximately 2 hours away from Busan). Cherry blossoms can be seen throughout the town, attracting many visitors. There are also parades, concerts, and food vendors during this season.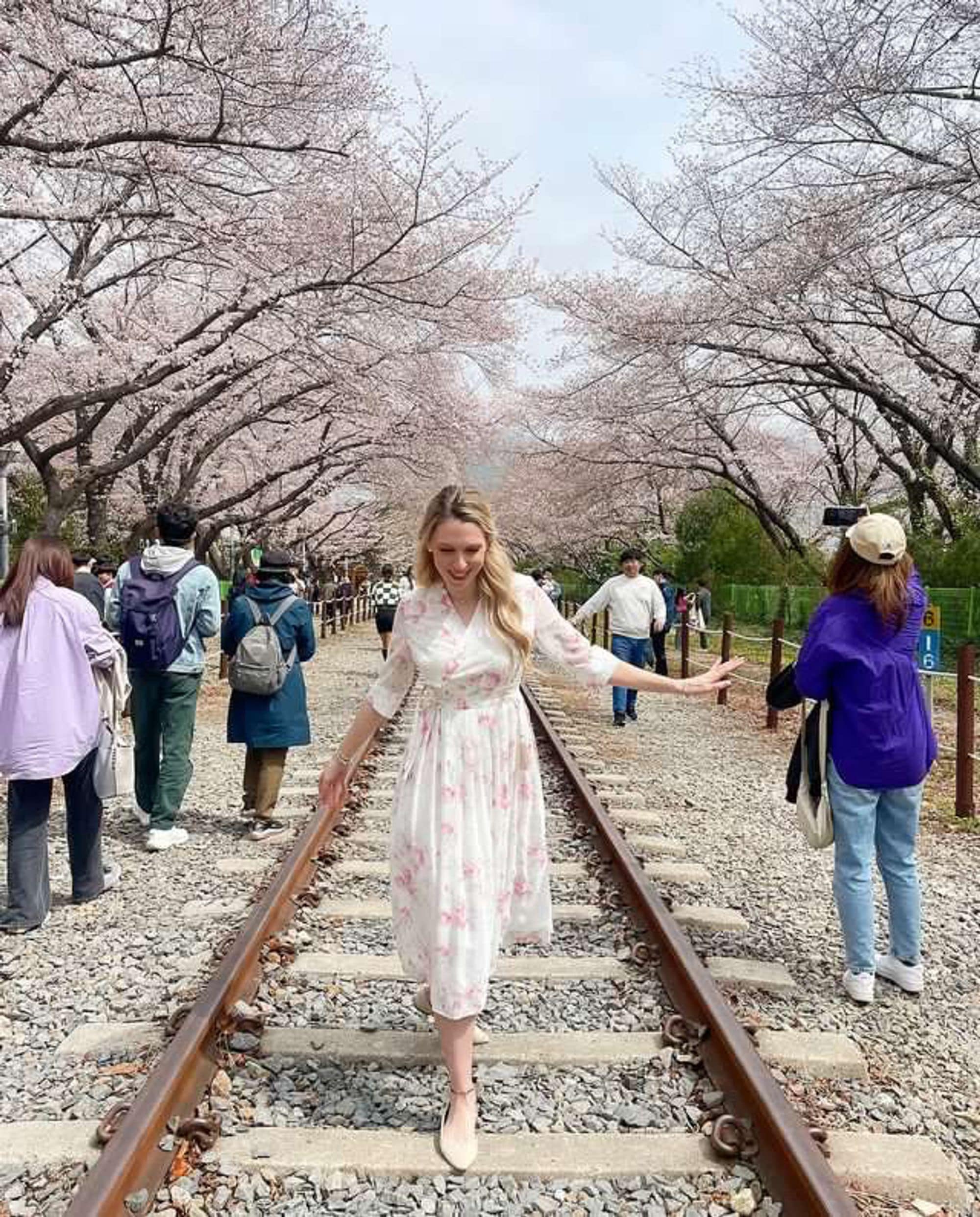 *Gyeonghwa Station in Jinhae(진해) Cherry Blossom Road by Hannah, @han.in.hanguk
You may visit this page for more recommendations on other great places to view the cherry blossoms.
Other than the famous cherry blossoms, there are many other flowers that attract attention during spring. The most popular ones include the magnolias or 목련 (mongyeon), which is usually the first flower to bloom in Korea, azaleas or 진달래 (jindallae) and the forsythia or 개나리 (gaenari).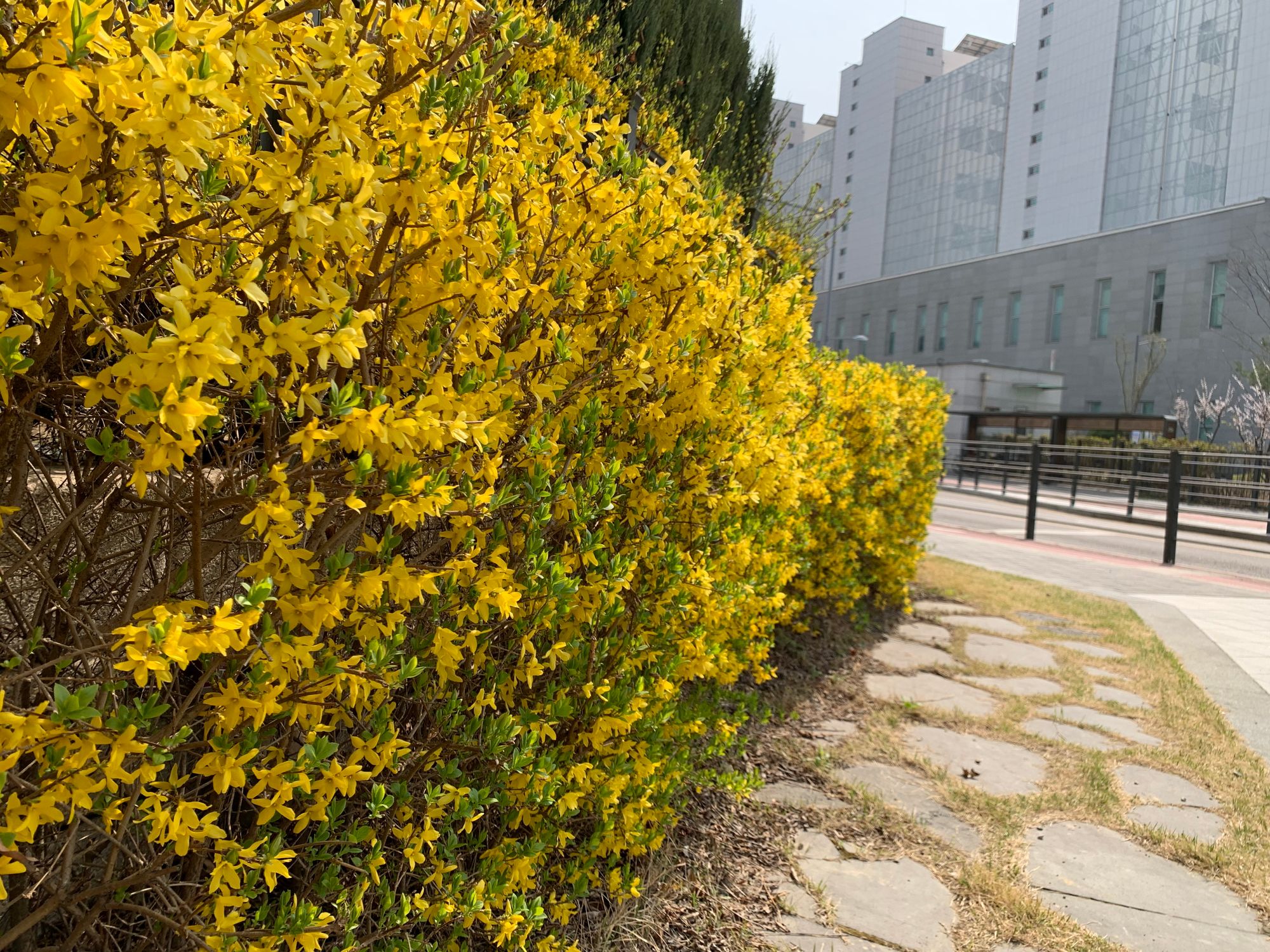 *Forsythia (gaenari)
As spring is a season of blooms, Goyang City (고양시), a city just outside of Seoul, holds one of the largest flower festivals in Korea. 고양 국제 꽃 박람회 or The Goyang International Flower Festival displays a diverse of flowers, including tulips, roses, and lilies, in which some foreign flower farmers also take part. In addition to the flower exhibition, cultural performances and activities are also held to attract flower lovers from all over the world, in hopes to promote the domestic flower industry.
Activities During Spring
Other than enjoying the beautiful blooms of spring, many Koreans would start venturing outside more often as the weather during spring is perfect for outdoor activities. One of the most popular activities is hiking since Korea has many interesting and beautiful hiking trails. The hills are covered in wildflowers, and the air is crisp and clean, making hiking just the ideal thing to do during this season. Bukhansan National Park (북한산국립공원), located just outside of Seoul, is a popular hiking trail in Korea as there are many hiking trails of various difficulty levels for visitors to challenge.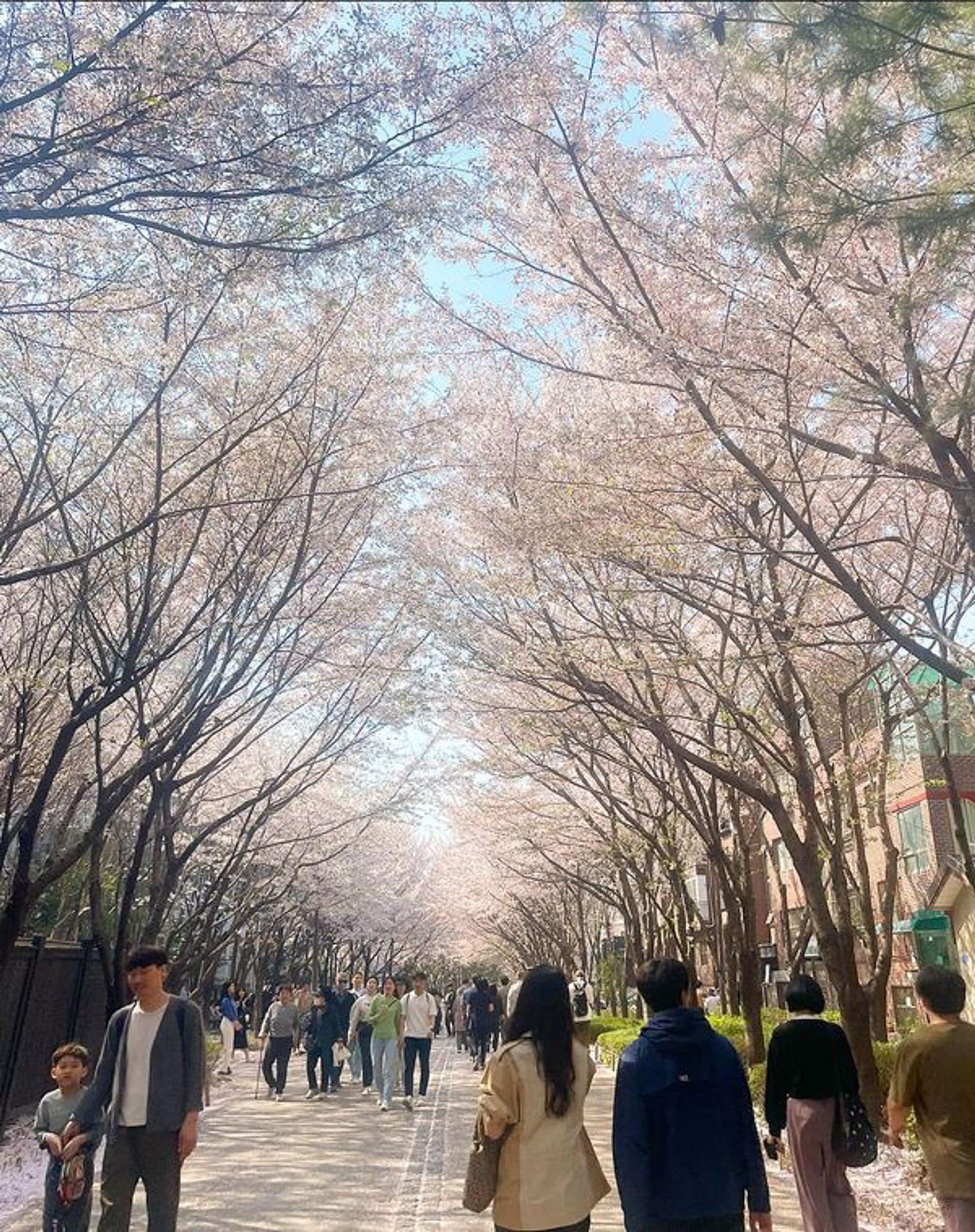 *Strolling in the Park by Hannah, @han.in.hanguk
Besides that, Koreans often plan picnic trips with family and friends in parks or by 한강 (Han River) during spring. In many parks, there are designated areas for picnicking, and some parks have rental services for tents and other equipment. People would usually bring blankets, food, and drinks to spend the beautiful day with their loved ones.
Jin: 이번 주말에 등산갈까요?
"Shall we go hiking this weekend?"
Kun: 그냥 공원에서 산책하고 피크닉 해요.
"Let's just take a walk and have a picnic at the park."
산책 (san-chaek) - walk, stroll
등산 (deung-san) - mountain climbing, hiking
피크닉 (pi-ke-nik) - picnic
공원 (gong-won)- park
Spring is also a time for cultural events and festivals in Korea. For example, the Lotus Lantern Festival, known as 연등회 (yeondeunghoe) takes place in May in Seoul. It is a celebration of the Buddha's birthday whereby people carry lanterns in a parade through the streets of Seoul. There are also cultural performances, exhibitions, and food vendors during this festival.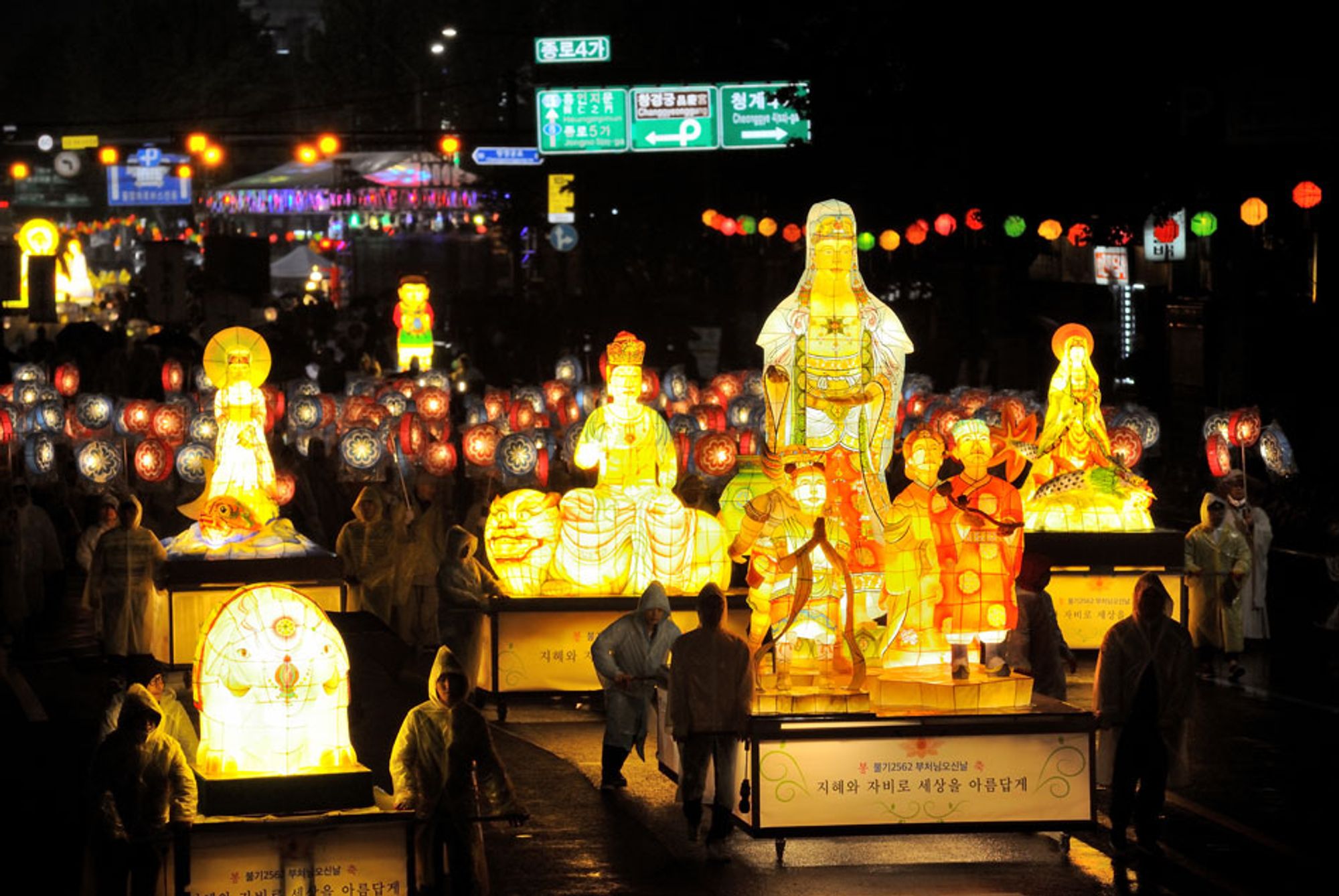 *Image from Korea Tourism Organization
In conclusion, spring is one of the best times to visit Korea. The above are just a few of the many festivals that take place during the spring season. From admiring the cherry blossom trees to having outdoor activities like hiking and picnicking, there is surely something for everyone regardless of age to enjoy whether they're interested in nature, culture, or food.
---
- Author: Good Job Korean team
- Editor: Good Job Korean team