Teaching English in Korea: What You Need To Know
Sep 19, 2023
- Author: Good Job Korean team
- Editor: Good Job Korean team
---
👍 Contents (Click to navigate instantly)
✅ How To Be An English Teacher In Korea
✅ How Much Are Foreign Teachers Paid?
✅ What Are The Differences Between Teaching In Public Schools and Private Institutions (학원)
✅ Why Should You Teach In Korea?
✅ What Should You Take Note Of To Live and Teach English In Korea?
In our previous post, we explored the private education institution known as 학원 or hagwon. As the globalization of education increases the presence of foreign teachers worldwide, Korea has also begun to embrace this trend by welcoming foreign educators, especially English teachers, into its schools.
Teaching English abroad is an exciting endeavor that offers good experience and professional growth. Thanks to the popularity of K-pop, K-drama, vibrant culture, delicious food, and reasonable visa requirements, South Korea is a popular destination for many people interested in experiencing living in Korea.
How to Be An English Teacher in Korea?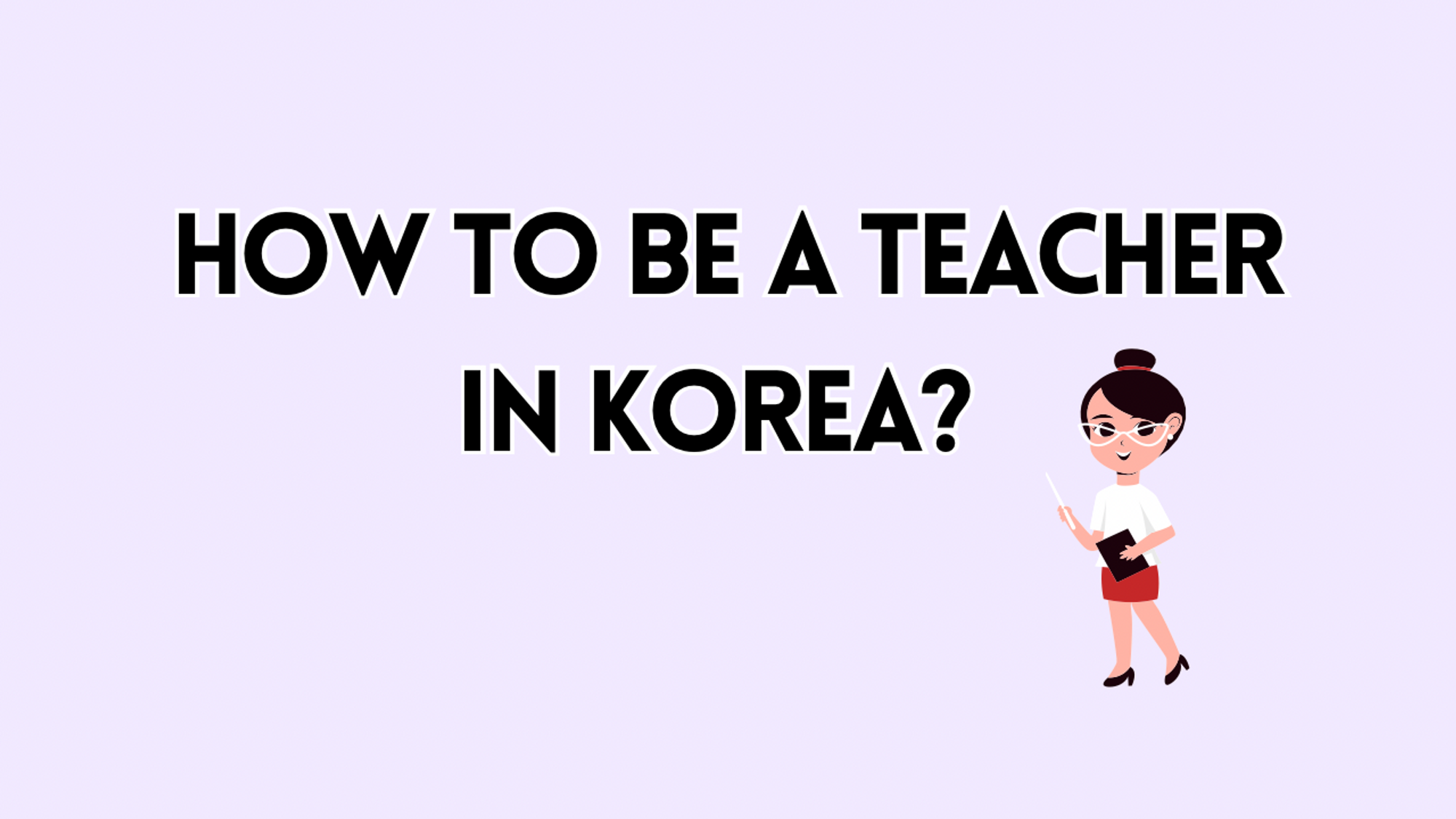 Prospective English teachers can apply for an E-2 teaching visa from the Embassy of the Republic of Korea in your respective country (Click here for an example). There are several pre-requisite requirements to apply for the E-2 teaching visa, such as:
Bachelor's Degree
Applicants shall be a bachelor's degree holder in any field from an accredited university. You are more likely to be hired and sponsored as a university graduate.



Citizenship and Language Proficiency
Applicants from English-speaking countries such as the United States, Canada, the United Kingdom, Ireland, Australia, and New Zealand are preferred as the institutions seek native English speakers. Proficiency in English is essential to teach the language in Korea.



Clean Criminal Record
A background check is usually done on applicants to ensure the safety of the students. Therefore, applicants must have a clean criminal record.



TEFL/TESOL Certification
While a certification is not always mandatory, having a Teaching English as a Foreign Language (TEFL) or Teaching English to Speakers of Other Languages (TESOL) certification may be a bonus point to help you get hired.


To apply to teach in Korea, applicants shall submit an online application form, attaching a resume and a cover letter directly to the schools or academies or through recruiting agencies. Sometimes, recording a self-introductory video is required to display communication skills and teaching enthusiasm. Some recruiters serve as an agent for job placements. Please research these agents and institutions before accepting any offers.
Besides the above requirements, you should equip yourselves with personal qualities and professional skills to succeed as an English teacher in Korea. For example, patience and empathy are vital in teaching English to non-native speakers. It can sometimes be frustrating if you do not understand what learners find challenging. As a teacher, you should always support them, whether they are fast or slow learners.
As South Korea is a country that emphasizes manners and etiquette, you have to be sensitive and respectful towards Korean culture. Adapting to their culture in social interactions and teaching style may help you get used to the new environment better.
How Much Are Foreign Teachers Paid?
The salary of English teachers in Korea can vary depending on factors such as education qualifications, teaching experience, location, and the institution you work for (public school, private academy, or university). Generally, working in private academies is better paid than in public schools since private institutions have longer working hours compared to teaching in public schools.
On average, English teachers can expect a monthly salary ranging from USD1,800 to USD2,500. Depending on the respective 학원, expat teachers are offered housing for free, and they only need to pay utility bills. Teachers whose contracts do not include housing package may get higher salaries. The salary offered would usually be sufficient for living expenses, traveling costs around the country during off days, and some savings.
What Are The Differences Between Teaching In Public Schools and Private Institutions (학원 or Language Academies)
Working Environment
The teaching environment in public schools in South Korea is more structured and formal. Teachers usually follow a curriculum and teaching schedule established by the country's education department.

On the other hand, private institutions offer a more flexible teaching environment. Teachers may have more autonomy in designing lesson plans and teaching methods.



Student-Teacher Ratio
Classes in public schools are usually larger, often ranging between 25 and 40 students per class. These large class sizes may be challenging for individualized attention and classroom management.

In contrast, classes in private institutions are generally smaller, with around 5~20 students per class. These small classes enable personalized interactions and tailored teaching approaches.



Working Hours
Public school teachers typically have a fixed number of teaching hours weekly, around 22-25 hours. However, lesson planning, grading, and extracurricular activities may require additional time.

Private institutions' teachers may have longer teaching hours than teachers in public schools. The teaching hours often range between 25 and 35 hours per week. However, this varies depending on the respective institutions.

It is noteworthy that even though it may be summer break for public schools, teachers may get only eight days of vacation. The teachers need to be in school for the rest of the summer vacation even though they do not have classes, usually used for lesson planning for the next semester. During winter break, public schools are closed from the end of December until the beginning of March. Hence, teachers would have more vacation days, for instance, 24 days.

On the other hand, most private schools only give ten vacation days per year to their teachers. These vacation days do not include national holidays such as 설날 (in February) and 추석 (in September). Private school teachers may face difficulty getting off days as they do not have substitute teachers to cover classes. Besides that, private institutions usually offer extra lessons during the summer and winter vacations.



Curriculum
Public schools often follow a standardized curriculum set by the Ministry of Education. The standardized curriculum provides a sense of consistency across different schools.

학원 usually has its curriculum that may vary between institutions. The unique curriculums differentiate the standard of these private institutions, allowing innovation and adaptation to the specific needs of the students.



Extra Benefits
Public school teaching contracts often offer benefits such as paid vacation days, housing allowances, government-sponsored health insurance, and pension plans.

On the other hand, the benefits of private institutions can vary widely. Some 학원 offer benefits like housing and airfare disbursements, while others may have fewer benefits.



Experience
Teaching in public schools allows for a more immersive cultural experience, as there is a diverse range of students and colleagues.

Similarly, 학원 attracts a diverse range of students, including those seeking extra English practice outside their regular school hours.



Pace
학원 are usually more competitive as they strive to attract and retain students. Therefore, the work atmosphere in private institutions may be more fast-paced and dynamic compared to public schools.


Why Should You Teach In Korea?
Firstly, teaching abroad helps in your professional growth. It would look impressive on your resume as it demonstrates your ability to thrive in diverse environments. Teaching abroad hones your communication, adaptability, and problem-solving skills.
Besides that, what is more fun than exploring a new country while earning money? Korea's strategic location in Asia also increases your travel opportunities to other neighboring countries during the long holidays.
South Korea is a country with a long history and unique culture. Living and working in Korea provides an immersive cultural experience with the opportunity to learn a new language, and experience local culture and customs, besides enjoying delicious Korean food.
Depending on your employment contracts, you may get generous benefits for teaching in Korea. Many teaching contracts include benefits like furnished housing, health insurance, and sometimes round-trip airfare.
Lastly, what is the best feeling of being an English teacher? The most meaningful impact is to be able to witness your students' language progress and growth. It is rewarding when you play a crucial role in helping the students achieve their language goals.
What Should You Take Note Of To Live and Teach English In Korea?
While it may look like rainbows and unicorns to live and teach abroad, it may not always be like that. You have to be mentally prepared for unforeseen circumstances to keep this adventure enjoyable.
If you're from an entirely different country and background, adapting to a new culture can be challenging, especially if you're unfamiliar with Korean customs and norms. Please be prepared for cultural adjustment and research the local manners and etiquette before heading to South Korea.
Secondly, please note that teaching contracts are usually for a year, which may not be suitable for long-term plans. Many expats wishing to stay beyond their contract period got to apply for an extension. It may or may not be approved, causing uncertainties for these foreign teachers.
While English is spoken widely in South Korea, language barriers may still arise. Language differences may make daily tasks more complex. Learning Korean before moving to Korea will help you interact and blend in better with the locals.
*Note: Click here if you want to learn Korean for FREE ;)
Depending on the institution you work at, your workload might be demanding. Teachers' duties involve lesson planning, grading, and extracurricular activities that may take up a lot of energy and time.
By living anywhere away from family and friends, you may not escape homesickness, especially during holidays. The feeling of homesickness may make you feel lonely, so surrounding yourself with friends and going on trips during your off days may help to take your mind off these feelings.
In conclusion, teaching English is one of the ways you can experience living and working in South Korea. Meeting the requirements, navigating the application process, and acquiring the necessary qualifications are the initial steps to embark on this journey. While the salary range is attractive, it is essential to consider the pros and cons before deciding. Therefore, with the right mindset, preparation, and determination, teaching English in Korea may be a memorable experience that enriches your life.
---
- Author: Good Job Korean team
- Editor: Good Job Korean team